We know your pet is more than just an animal, they are part of the family. That is why we included a pet door in both our Standard and Premium Series doors! There are many benefits that come from including a pet door in your home, making your life a lot easier!
No more scratches on your doors or walls

Fewer accidents indoors

Less barking

No more opening doors for your pet

Less likely to need expensive kennel services
Pet doors are a fantastic option for any pet owner. They give your pets more independence and reduce the stress for you. Pet doors give your pet self-esteem by giving them freedom to move about the house and outdoors as they please. It also assists in overcoming common behavioral issues such as housebreaking, destructive chewing, excessive barking, clawing, and scratching furniture.
You can also choose our Premium Pet Screen Door with a dog cutout in it! The option shown below has a Beagle, but we can do virtually any dog breed. Send us an inquiry to sales@screendoors.com if you would like to see this door with another type of cutout in it!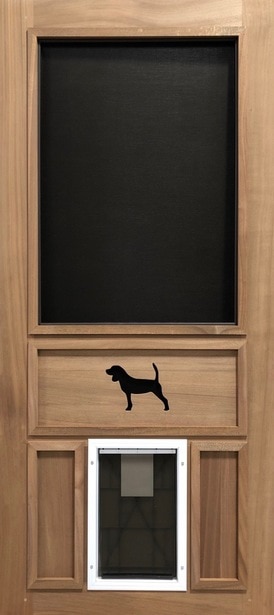 By purchasing from our Pet Collection at Montana Screen Doors, you can choose from four different woods to find the perfect solid wood screen door for you and your beloved pet. With solid wooden panels in the bottom and screen at the top to prevent pets from pawing at it, you can ensure these doors are built to last. Check out our Pet Collection here!