Double screen doors are a great way to showcase your new beautiful Montana Screen Doors! Ordering double screen doors has never been easier, and this blog will walk you through the process of measuring and placing your order correctly.
Measuring for wood screen doors in a French Door setup can be done in a few ways. One, your contractor can obtain the measurements of each door for you. Secondly, if you are a DIY customer, the steps below will walk you through getting accurate measurements:
1) Measure the width and height following the same guidelines as our

How to Measure

instructions.
2) Once you have your longest width, divide this number by 2. For example, if your width for a double screen door opening is 72", dividing by 2 will give you 36" for each door.
3) *IMPORTANT* If your contractor / handyman is doing the installation, we recommend following steps 1 & 2, and ordering each door as 36". However, if you are a DIY customer installing the door yourself, there is an extra step you can take to make the installation process easier. Using the same numbers in our example in step 2, we now have 36" for each door. For DIY customers, we can make a few more alterations to account for the hinges and the astragal, thus alleviating more trimming that would have to be done on site. To accommodate for hinges and the astragal, we now recommend taking an additional 5/16" off each door. Now the measurement will be 35-11/16".

Recap: 72" total width / 2 = 36" each door (will suffice for contractor install)

36" – 5/16" = 35-11/16" (recommended for DIY install)

The reason for an extra step for DIY customers is because contractors have the proper tools to trim the doors down on site to ensure they fit perfectly. We want to help our DIY installers as much as we can by making sure the doors are as close to a perfect fit out of the box as possible.
4) Now that we have our measurements, you will need to add an Astragal to your order. This will be on the product page for each door as shown below.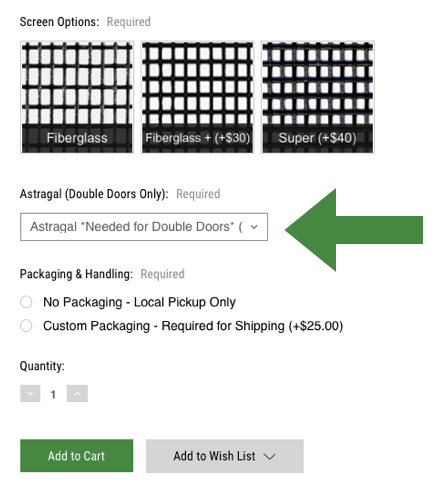 5) Once you have selected the astragal, add just ONE door to your cart. You will then add the second door with the same specifications with NO astragal selected. This way you will only pay for a single astragal needed for your setup.
If you have any questions at all, give us a call! We would be happy to help walk you through this process to get you one step closer to new custom screen doors.